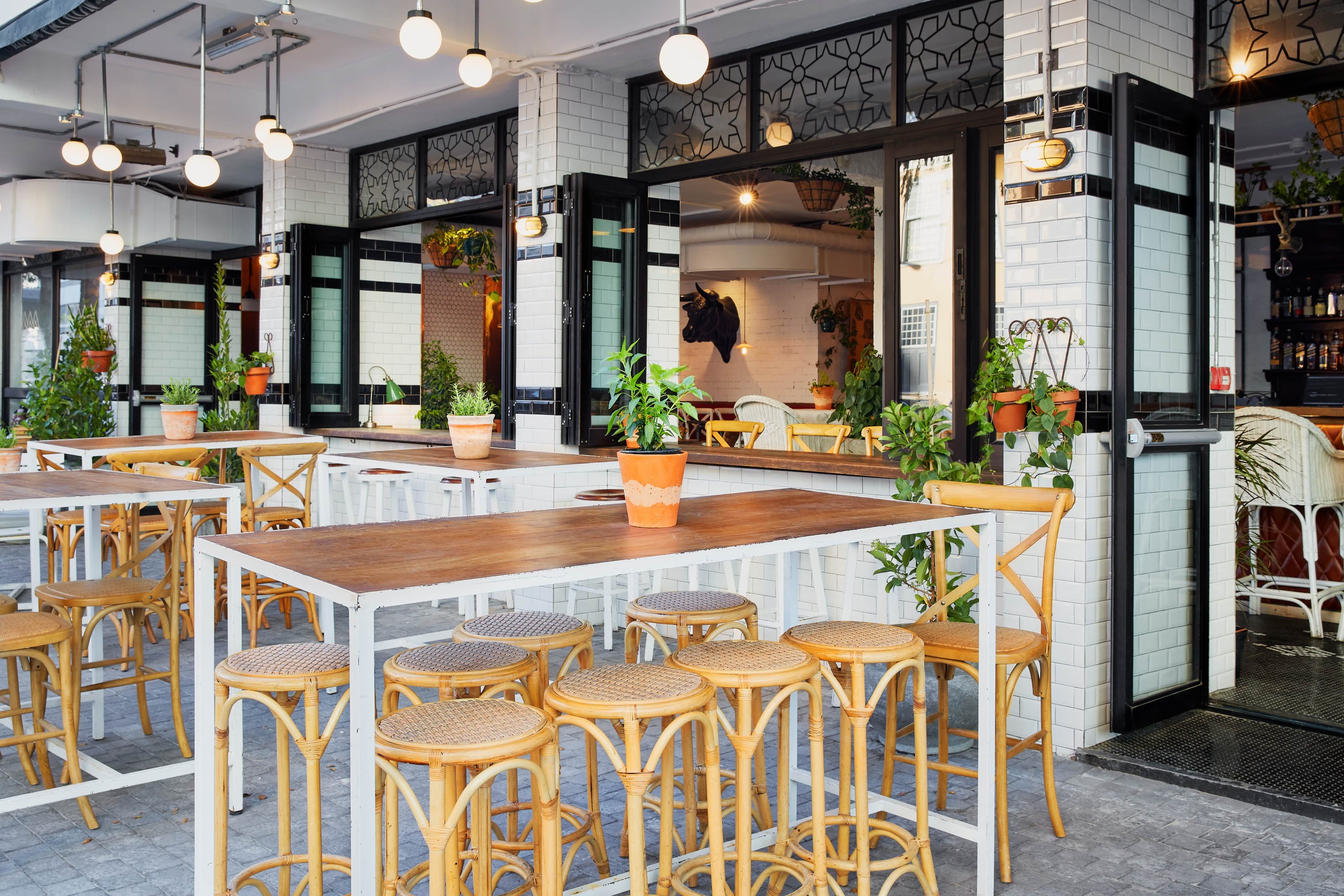 Recently I was invited to sample the newly opened Charango Barbacoa menu and, being that their specialty is steak and I am a non-red meat eater, I was intrigued. I often judge a restaurant based on how they cater to vegetarians, vegans and flexitarians like myself (mostly veggie, sometimes chicken and fish). And well, Charango did not disappoint.
Situated on the culinary capillary of Cape Town, Bree Street, this South American eatery feels every bit the authentic Peruvian side street dining experience, replete with statement bulls heads on the walls, cool subway tiles, weathered wicker and plenty of greenery. All you need is a Panama hat, a cigar and some linen slacks and you're all set.
As for the eats, we couldn't have asked for better. As mentioned, my litmus test for dining out is the vegetarian option and my absolute highlight of the meal was the truly outstanding green salad. Simple, crunchy and super fresh, it paired excellently with our mains and even the crisp mojitos (I'm drooling thinking about those cocktails right now…).
Tim and I decided to share a bit of everything, as usual. For starters we opted for the chargrilled prawns which (surprise!) were the biggest prawns I've ever seen and were more like langos (yummmm…), as well the seared tuna taco which was life changing (its now my new favourite food, ever) and the silkiest, freshest salmon ceviche paired with citrus and hazelnuts. Sublime. I told Tim he should have ordered his own tuna taco, because it was that good and we both wanted it all to ourselves, but as usual he didn't listen and as usual I said 'I told you so'. Marriage.
For mains, we had to overlook their extensive steak menu (though I'll bet it's pure deliciousness for the carnivores) and instead went for the grilled kingklip, served on the bone like a sole. Heavenly and succulent, it comes like all mains sans sides, but we made up for it by ordering way too many – tempura zucchini fries, sweet potato fries, mashed potatoes and baby veggies, as well as that standout green salad.
It was a breezy, beautiful day and we admired the city views and the open doors spilling out onto the street. Between courses we relaxed and sipped our icy mojitos, and felt so comfortable we could easily have been in South America.
For dessert we shared a decadent fried ice cream ball rolled in crushed Rice Krispies. It was honestly divine but we were so full, it just felt criminal. Next time we'll go a bit easier on the sides and make space for their proper Latin desserts like creme caramel. Mmmm.
All in all, it's a lovely place to wind down after a busy day at work, a fantastic meet up spot for drinks with friends and the kind of meals you keep coming back for, time and time again.
For more information, visit charango.co.za