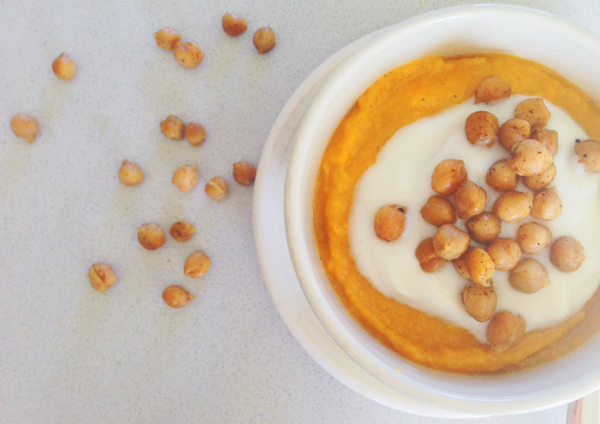 Cape Town isn't called 'Four-Seasons-in-One-Day' for nothing. Just the other day it was all still blistering summer, sunscreen, long walks on the Promenade and sleepless nights. We've barely blinked since then and we're already feeling the biting edge of winter approaching (although there's another heatwave hitting us in a couple days). Autumn is so lovely, albeit confusing, in the Mother City, eliciting snuggles, slippers, socks and soup! And this healthy, nourishing bowl of goodness doesn't disappoint!
Packed full to overflowing with soul warming, good-for-you nutrients, this soup is THICK – my fave! Thin soups and broths have their place, for sure, but nothing beats a hearty, thick soup to warm those chilly bones! In just a few short steps, you'll have yourself a simple and utterly delish little weekday crowd-pleaser to add to your autumn arsenal. And that spicy chickpea topping? Heaven! Here's what you need and please excuse the obscene lack of photos:
VEGAN BUTTERNUT & PUMPKIN SOUP with TOASTED CHICKPEAS
INGREDIENTS
2 x Small butternuts, chopped
1/2 x Small pumpkin, chopped
1 & 1/2 x Onions, chopped
3 x Carrots, grated and chopped
2 x Tins of chickpeas
1 x Tin of low fat coconut milk
1 x Cup of Chicken stock
Olive oil
Honey
Cinnamon
Salt & Pepper
Cayenne Pepper
Full fat Greek yoghurt to top
METHOD
01. In a preheated oven at 180ºC, roast your chopped butternut, pumpkin and carrots with a good glug or two of olive oil, a few tablespoons of honey, a generous sprinkling of cinnamon and salt and pepper until soft and tender (about 45 mins).
02. While the veg are roasting, drain and pay dry the chickpeas. (Fun fact: the word 'chickpea' in Hebrew is 'hummus' and is obvs a Jewish staple food – so my Israeli genes are tingling!) Toast your chickpeas in a baking tray on the lower shelf in your oven topped with a good dose of olive oil, salt and pepper and cayenne pepper. You may need to keep an eye these little babies so they don't burn but they'll be good and golden in about 20 mins or so. Don't fret if they're still soft-ish; they won't go hard so don't overcook them if you think they're underdone.
03. Once the veg are roasted and easily come apart with a fork, remove from the oven and set aside while you fry the onions in a large pot until translucent. Transfer the roast veg to the pot, add in the coconut milk and chicken stock and simmer on high. If it's a bit too thick, you can add a splash of boiling water. Just trust your eye ;) Allow to cook for at least 10 minutes, stirring every now and then until the soup thickens. Add more seasoning to taste.
04. Using a stick blender, or by transferring to a standing blender, puree the soup until smooth and all the big lumps of veg are gone. Serve piping hot topped with a dollop of Greek yoghurt, a handful of the toasted chickpeas and some warm, farm-style bread for dunking!
I hope you enjoy making this winter warmer for your loved ones!
♥ Dani