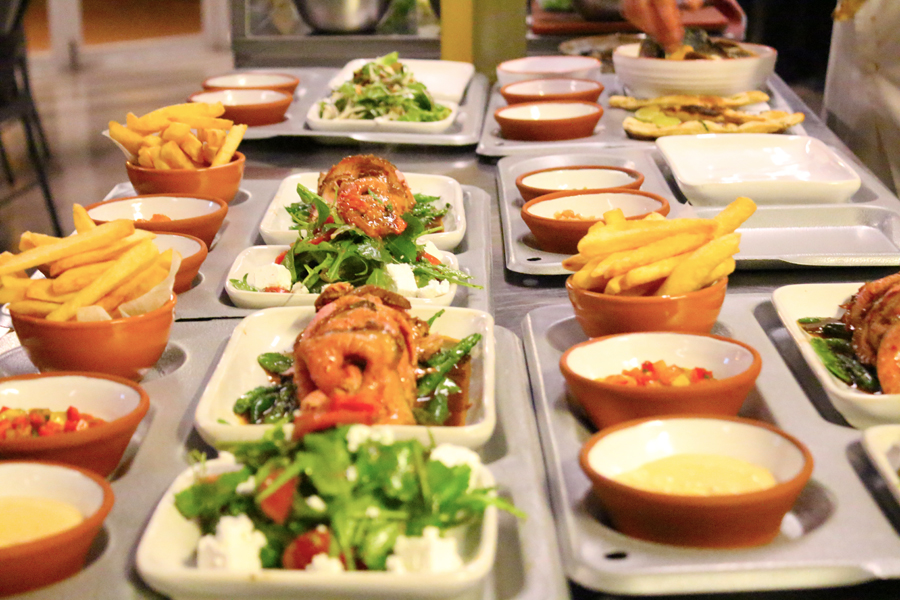 When thinking of canteen dining, one doesn't quite think of gourmet, but that is precisely what this lovely, relaxed little place does – combining unusual but winning elements. And how I wish it had been open when I worked at House and Leisure – we were literally next door! It used to be a very yellow graphic design building and has since transformed into this super minimal, airy space that certainly offers more than it appears to.
THE CONCEPT
Available as a set three-meal menu that changes on the daily, the only real canteen aspect of this concept eatery is that all meals are served on cafeteria-style metal trays, the tables are communal and the service is speedy – perfect for a quick yet substantial proper meal. Other than that, it's gourmet all the way with super divine options in meat, veg or a lighter meal plus dessert to choose from.
Head Chef Jenny Ward leads a team of efficient cooks working with an open fire to deliver quick, convenient yet superb dishes. The menu is updated everyday online so you know what to expect before you get there – yet another way to make the whole eating out experience as seamless and fuss-free as possible, leaving the chefs to get on with the business of serving up fine dining worthy dishes.
In what was a brave decision to stand out from the rest, Chef's has made top notch dining as minimalist an experience as it gets. There's no printed menus, no billboards or signs. Everything is ordered electronically on their standing tablets and paid upfront at the front desk. There are no waiters – the chefs will deliver straight to your table – and no bills. Once you're done, you  can just leave, which is surprisingly refreshing. and with their open plan commercial kitchen, you can see everything being prepared in front of you. The entire space is sparse – white walls, big old school windows and nary a flower vase in the way of decor. It's a wonderful idea for a blank canvas that keeps your focus on the bright, healthy and vibrant food in front of you.
OUR EXPERIENCE
Tim and I both ordered the veg option – the Pea, Pistachio and Parmesan Gnocchi with a fennel side salad and baby greens for mains and the Apple Pie and Honeycomb Crumble for dessert. Yum. Seriously yum. The portions look small on the tray but they're truly substantial. We could barely find space for dessert (though that's never stopped me. I'm a professional). Sparkling water is offered on the house, and they have home brewed cordials, a monthly changing wine list and beers on offer. Service may be quick but it's by no means rushed. Tim and I relished every mouthful and enjoyed the warmth of the open fire oven. The prices are what you'd expect from dining out now, so it can't really be called expensive anymore when this is just the norm. Besides, what you're getting is worth every penny. It's designed for people on the go but you don't leave wanting more.
No mess, no fuss – just superb eating in the heart of the city.
Chef's is open from Monday to Friday for lunch and dinner. Find them at 81 St John's Street, Gardens, Cape Town or call 0214610368  to book.
Chef's hosted me as a guest but all opinions expressed here are my own.