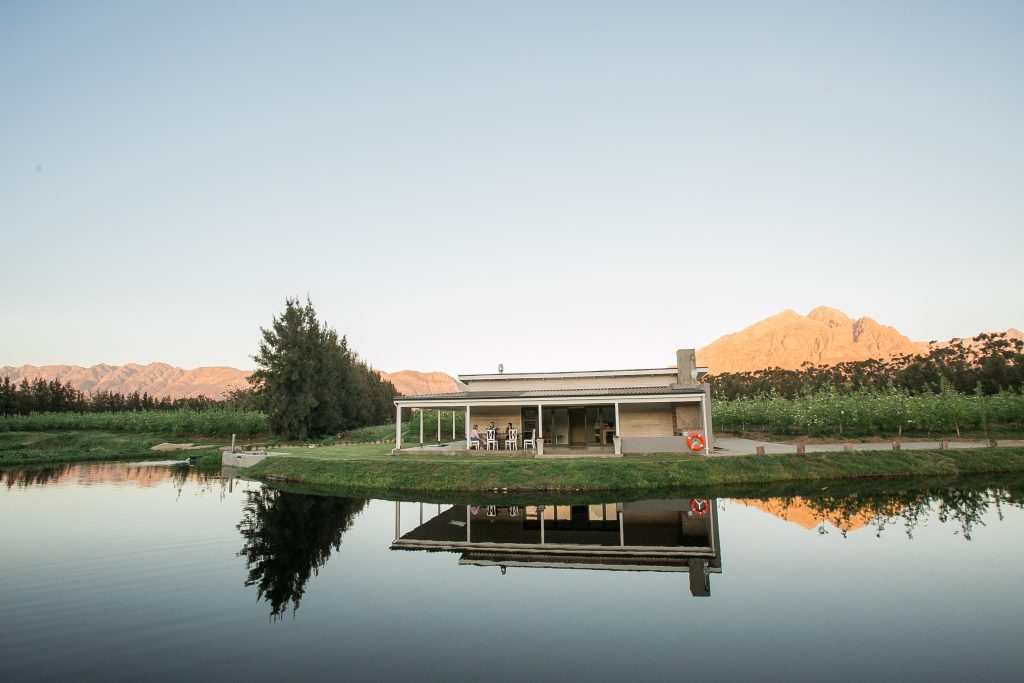 So you remember when we went feasting at Waverley Hills? Well, as if their hospitality weren't enough, we were kindly offered a place to stay for the night – travelling with a little one is not easy (if you guys have tips for a newbie mama, please dish them here!), but we weren't expecting to be blown away by their recommended accommodation, Orchard Stay; just a nice, comfortable place to lay our heads for the night before driving back to Cape Town the next day. WELL – IT. IS. STUNNING. To the point that a) we couldn't bare staying only one night, and b) we're already planning our return with friends in tow.
Only a ten minute drive away from Waverley Hills, tucked between Ceres and Tulbagh, Wolseley looks kind of nondescript from the road. Pretty enough, but not a place you'd think to stop on your way to somewhere else, you know? Well, not stopping here would be doing yourself a huge disservice. It is beautiful and quiet and rural and lush. Even more discreet and hidden amongst the Platvlei fruit orchards and farm owned by the Nieuwoudt family, is the aptly named Orchard Stay. Couched by some spectacular mountains to one side and the Breede River on the other, this lovely self-catering spot is one of those places that is too humble to admit its beauty. From the outside of the house when you arrive, another of those unassuming, 'I guess this is ok' vibes, but turn the corner and walk inside and it is just simply jaw dropping. Beautifully designed and appointed, there isn't a spot neglected in the Nieuwoudt family's attention to detail. It's a modernized farm house with a contemporary edge that still maintains that small town whimsy whilst pointing to luxurious appointment. I just love the element of surprise here, how it's so much more than you're expecting.
Literally everything has been thought through. Luxury finishes and appliances, beautifully designed architecture and undisturbed views make for a truly decadent getaway. It isn't over the top and isn't trying too hard, but you can tell that everything has been considered. With a fully stocked pantry in case you forgot something (just imagine forgetting the cooking oil!), this self-catering accommodation has a stunning kitchen, a modern and cozy living area with a fireplace, two bedrooms (they even had a cot ready for us) and two ultra stunning bathrooms. AND NO TV. On purpose, of course. Why come all this way to watch a silly TV show when you can just switch off (though there is a good WiFi connection) and actually relax? Enjoy nature, enjoy good company and truly feel like you're away from it all, though you're not even 2 hours out of Cape Town.
It was particularly freezing when we arrived (though no snow in sight for us!), so even just sitting inside with the roaring fireplace and getting toasty with our complimentary bottle of wine (and hand written note!) was perfect. We would have loved to have sat on the gorgeous screed wrap-around veranda and take in the vista, but we are rather taken with our fingers and toes and they probably would have fallen off from the cold. That being said, the weather didn't stop us from trying out their highlight – a wood-fired hot tub, right in the middle of their private river! As an off-shoot from the Breede River, they've cordoned off a little segment that sits at the doorstep to the property, and then within that they've cordoned off yet another area for the hot tub. After a light dinner (we were still full from our ridiculously yummy lunch) and a good glass of wine or two, hubby and baby and I braved the freezing-ness and headed out in the pitch black of night, ran across the grass and dropped towel before jumping in to swim in the hot tub/river! It was super hot, it was gorgeous and THEN! It started raining! Bliss! It was Gia's first time in a pool and the experience of seeing her face light up with the falling rain on her face while still being warm inside the hot tub will be imprinted on my heart forever.
When it really started to bucket down, we made our way back inside for yet another luxury – A BATH! Whaaaat?? In Cape Town?? Being off the grid and with its own water supply, we were told to enjoy making use of the great, big freestanding tub – an offer we couldn't possibly refuse! So we had a proper bath, also Gia's first (and our first for a good two years) and let her splash and have fun while we just soaked and relaxed. Utter perfection, making memories and just enjoying each other and the simple things in life.
After allowing ourselves to get all kinds of pruney, we got out of the bath, got into pj's and headed back to the roaring fireplace for cuddles and more of that delish Waverley Hills wine. It was too wonderful. When we all got rather sleepy, we scrambled under the covers in their super comfy bed and just let the day wash away while the fire kept us toasty all night long. Full bellies, happy hearts.
The next morning we were very, very sad to have to pack up and go! I would have loved another day at least to relax and explore. We definitely need more time to spend here and truly take in the surroundings, plus there is so much to do in the area from ziplining to mountain biking. But best of all, you can just vegetate. The space and all the natural surroundings let you really breathe out here. Wind down with a good book and some good company and just rest. That's my kind of getaway.
This is a place you want to keep coming back to, especially with friends. We're already planning our summer getaway with our besties and their little girl who is Gia's bestie and the same age as her. I can't wait to come back here with them, make yummy braai's outside (well, the dads at least), swim in the river all day and wile away the evenings with some more fantastic wine on the veranda while our little girls play in the heat of summer! This is definitely a place that's been added to our annual family getaway list, and it should be on yours too!
Tammy from Orchard Stay sat down to answer some of my questions about this spectacular place:
What makes Orchard Stay so uniquely special in your opinion?
Location and the space inside and out. The house is set with views to be enjoyed from all angles… you are surrounded by mountain and orchard views. The house has such an open and welcoming feel with plenty of indoor space too. The large open plan kitchen/dinning room and lounge is the perfect social space. 
The design is out of this world! What was the inspiration for the decor and design of the build?
We had a draftsman for the build plan, and no architect. Andrew and Guy (the Nieuwoudt brothers who run Platvlei) designed the house themselves. The house evolved as the project developed. 
Who was consulted / contracted for the build and interior design and why?
We went with cladding for a faster build and for the character it gives to the a place.  A local interior decorator from Worcester was consulted on for the colour scheme and some decor items.
You are a family run farm / business. How does that make your offering different?
We offer a personal touch from the booking process and check-in, to things like the fireplaces being made up with kindling, welcoming gift, cleaning and maintenance, and attention to detail of the house.  We have put so much love into creating Orchard Stay… guests feels this love and the happiness the space offers. 
How have you managed to stay off the water grid? Is the eco-pool also non-municipal? Was this intentional? How else is the farm / Orchard Stay sustainable?
We have scheme river water (from the Breede River) and 2 boreholes as our water supply. No municipal water. The dam and eco-pool water are scheme fed.  
What feeling would you like for your guests to be left with after a stay?
Totally relaxed with only the happiest of memories!
For more information visit orchardstay.co.za