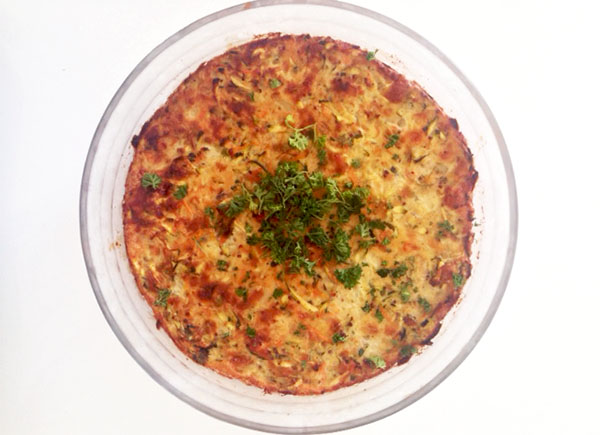 This veggie quiche is decidely more-ish, super easy and the recipe is even more special because I got it from my momma… She's made this for dinner three times this month already in an attempt to feed my new found vegetarianism (Newsflash: My mom gets stuck in these food-making wormholes where she makes the same thing I like over and over until I forget what other food tastes like and I end up hating whatever she made in the first place. Needless to say I will never eat fridge cheesecake or chicken schnitzel ever, ever again. Love you mom).
But this one? She can keep making forever and ever and I'll never get sick of it. Light, crispy and without the weight of a crusted quiche, this is a healthy, crowd pleasing and utterly delicious meal.
CRUSTLESS ZUCCHINI QUICHE
INGREDIENTS
(serves 6)
2 tbsp butter
1 onion, finely chopped
2 cloves garlic, chopped
1 large carrot, finely grated
400g zucchinis, finely grated
2 tbsp plain flour
1 tsp wholegrain mustard
3 extra large free range eggs, lightly beaten
½ tsp ground nutmeg
2 tbsp finely chopped parsley
100g mozzarella, grated
2 tbsp Parmesan, grated
salt and pepper to taste

METHOD
01. Melt butter in a saucepan over low heat. Add in your chopped onions and sauté until soft and translucent. Add in the garlic and fry for a minute.
02. Add the grated carrot and zucchini to the pan and fry for 2 – 3 minutes. Remove from the heat.
03. In a seperate mixing bowl, combine the flour and egg, mixing to a smooth batter. Add in the wholegrain mustard, nutmeg and parsely.
04. Fold the zucchini mixture into the batter and mix thoroughly. Fold in the grated mozzarella and Parmasan.
05. Pour into a greased 20cm pie dish and bake at 180ºC for 20 – 30 minutes. Serve warm, topped with a garnish of fresh parsley and a side of crisp, summer salad.
This quiche can be made into seperate tartlets if you prefer; just bake them for 10-15 minutes instead. It also freezes well – cover and freeze for up to 3 months.
Enjoy!
♥ Dani