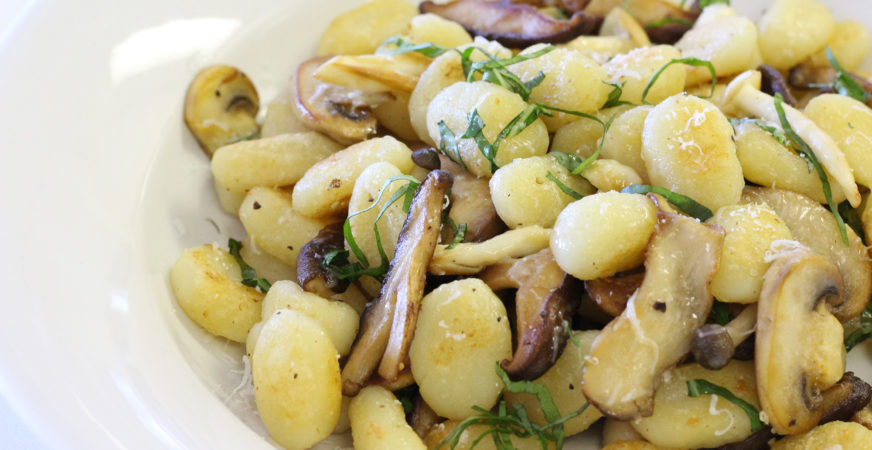 Guys, this dish is like striking gold. Toasty, gnocchi-shaped gold. I tried this simple, little concoction only once as an experiment with a random punnet of wild mushrooms I had in the fridge, and that little fry-up resulted in my being begged for multiple repeats from both my mom and hubs. It's been through a few variations and some trial and error, but I think I got it! Also, by now you should know I have a deep affection obsession with gnocchi, so trust me, here's a goodie…
Wild mushrooms, on the other hand, aren't something I've had the luxury of playing with too often what with being so expensive and all. But I wandered into Woolies a while ago and there they were, on special and perfectly suited to my upper class aspirations and my middle class budget. I bought two boxes and then went home, satisfied with my new level of bourgeois. Shimeji, King Oyster and Shiitake – these were my new best friends. I dare you to slice up one of those babies and not devour them as is. They're buttery, and nutty, and soft, and decadent, and just yum.
This dish is a perfect marriage of the wild flavours of the exotic funghi and the familiar, cozy yumminess that is potato gnocchi coming together to produce a light, healthy meal that is super easy and quick to make but looks and tastes damn fancy. And I like me some fancy.
INGREDIENTS
1 x punnet exotic mushrooms, sliced
2 Tbsp butter
1 tsp garlic, crushed
1 x package gnocchi
100ml white wine
1 x handful fresh basil, sliced
100g Grana Padano, shaved
dash of Extra Virgin Olive Oil
course salt and pepper to taste
METHOD:
01. Bring a pot of salted water to the boil. When at a rolling boil, add the gnocchi and cook for 3 minutes until the fat little dumplings are soft and float to the top. Drain and set aside.
02. Heat a pan with 1 tbsp of the butter, add the sliced exotic mushrooms and sautèe until golden brown and soft. Add the garlic and mix well. Season with salt and pepper and remove from the heat.
03. Add in the cooked gnocchi with the remaining butter, frying and tossing until golden brown and crisply toasted on the outside and soft on the inside. Oh my god, yum (These little nuggets are damn fine on their own bee tee dubs… but I digress).
04. Add the sautèed mushrooms to the pan with the toasted gnocchi, then pour in the wine to deglaze the sticky, starchy mess at the bottom of the pan. Cook down until reduced and the alcohol has evaporated.
05. Add the sliced basil (it's fancier if you roll up your basil before slicing into tiny little shards), fresh parmesan shavings, seasoning and a swirl of olive oil for some glossiness and serve.
So easy, so fancy. That's my kinda dinner! It fills you up without being heavy and it's so flipping delectable you'll mourn your empty bowl. Good thing it's so quick to whip up a whole new batch! Enjoy!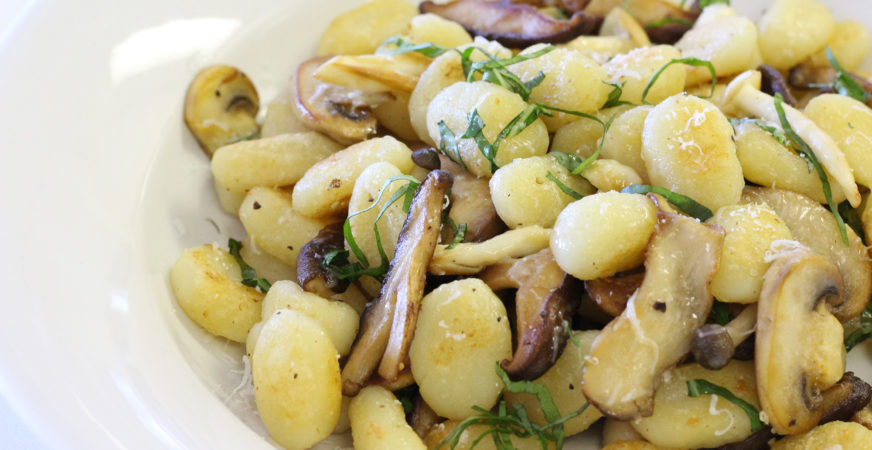 ♥ Dani