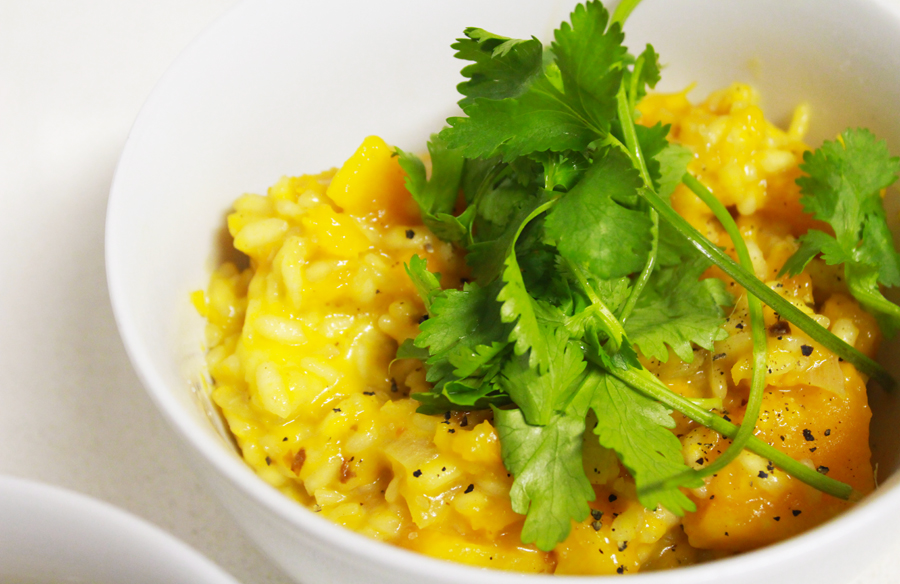 Nothing for me says 'winter is coming' more so than risotto. Warm, luxurious and moreish, this Italian dish is comfort food to the T, heralding just in time the oncoming of Autumn in this southern half of the hemisphere. But no matter where you're from, risotto is heavenly. Unctuous layers of indulgent creaminess and that tiny bit of bite from the Arborio rice make for a divine and decadent dish that is also incredibly easy to make. Rubbish to all those who say you need to labour over the stove, stirring endlessly for 45 minutes to produce this classic dish! Nothing could be further from the truth, and with the subtle, dreamy flavours of Thailand in this simple yet sunny midweek meal, you'll have dinner on the table in no time at all.
Right – so with that little preamble out of the way, let's get onto the good stuff, shall we? Really, risotto done right is really easy as long you're using quality ingredients – Arborio is not cheap, so you may as well treat it right! You can also make it your own with whatever flavour combinations you prefer. In this one, butternut, mozzarella and hits of parmesan, cumin and coriander combine for some serious flavour, while a good quality stock and a grand old glug or two of some fancy white wine make up the back bone of this dish. Yummmm. Ready? Let's do this.
INGREDIENTS
1 small butternut, peeled and cubed
3 Tbsp butter
½ white onion, chopped
1 tsp garlic, crushed
½ tsp cumin
½ tsp dried red chilli flakes
1 cup Arborio rice
1 cup chicken stock
1 cup good quality white wine
1 x handful fresh coriander
dash of Extra Virgin Olive Oil
course salt and pepper to taste
METHOD:
01. Heat the olive oil and 1 of the tablespoons of butter in a deep pan over medium-high heat, then add the onion, garlic, chilli flakes and cumin, stirring until the onions are cooked and   translucent. Don't be too heavy-handed with the cumin as it's quite overpowering – less is definitely more here!
02. Add the chopped butternut, giving it a good stir to coat with the onion mixture and cook until just about to turn soft – about 3 to 4 minutes.
03. Add in the rice with another tablespoon of the butter and toss through until all the rice is thoroughly coated in the oils. Allow to toast for a few minutes, stirring every so often to prevent it getting stuck to the pan, but be gentle – you don't want to break the rice.
04. Deglaze the pan with the wine (only use the good stuff, like my fave Warwick The First Lady Chardonnay) and allow the alcohol to cook off before adding in the stock. A ladle at a time, pour in some of the stock, stirring every so often until almost absorbed before pouring in the next ladle. It will look like A LOT of liquid but it will absorb fairly quickly, don't worry!
05. Allow the risotto to cook until the rice is silky and al dente, around 10 minutes (or longer if you prefer a softer bite). You won't need to stand over it, stirring the whole time. Just keep coming back to it, give it a stir to stop it from sticking to the pan and let it do its thing.
06. Once the rice and butternut is cooked, give the butternut a very rough mash, leaving some bigger chunks for texture. Add in the last tablespoon of butter, the mozzarella, parmesan and a good dose of salt and pepper, stirring through until all melty, oozy and delicious. YUM!
Serve immediately (in rather generous lashings if you're like me) topped with the fresh coriander and tuck in! Sooooo yum. Bonus points if you eat this in front of the fire – thank you husband (he's our resident firemaker / lumberjack) – with a lovely glass of that wine, your pups snoring at your slippered feet and the baby *finally* sound asleep. Yes. Bring on winter!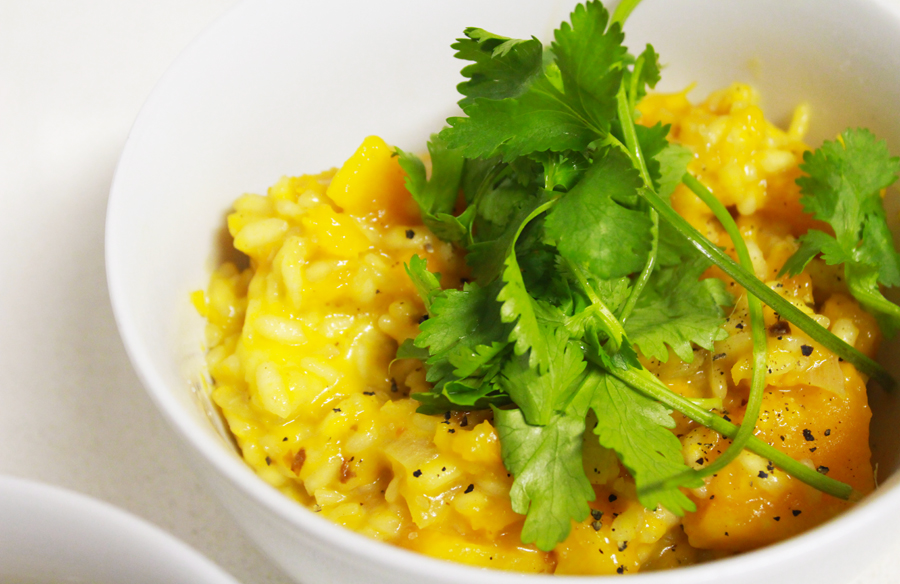 ♥ Dani